TOTAL POWER WATT Competition 2009
This is the detail of JA QRP's Total Power Competition appeared in GQRP SPRAT Winter.
ARCI's Qrp Qurtaly also introduced the competition. This is the updated rule.
Purpose
To introduce the concept of minimize communications Total Power Watt, we (JA-QRP Club) held the Total Power Watt competition to world-wide QRP amateurs.
Entrant
We invite any foreign QRP club members to this competition. In Japanese domestic, JA-QRP club member can become entrant. This competition is supported by JA QRP club fund.
Frequency and category
In 2009 the Total Power Competition (here after TP2009) is held at 144MHz FM.
Both homebrew builders and production model users are encouraged to participate TP2009. Modified production model remains at production model category.
Any kind of antenna can be used in this competition.
The definition of the TOTAL POWER WATT
The TOTAL POWER WATT (here after TPW) is defined as sum of power consumption on transmit and receive, including optional unit such as electronic-keyer, mic-amplifier and audio filter. The measurement error should be less than 5%.
The TPW is calculated from DC battery voltage and measured current. When external house power is used, AC voltage and current measured at AC inlet are used.
TPW HANDICAP is a reciprocal number TPW. By this handicap, entrant can compare tranceiver performance and one can calculate km/TPW quickly by multipling QSO distance.
Distance
In TP2009, entrant measure distance between two stations from his map or any web based map service.
Submit of Record
Entrant will submit his TP2009 entry form by e-mail attachement. JL1KRA Junichi Nakajima, mx6s@yahoo.co.jp receive your e-mail and final entry date is 15th August 2009. Subject of e-mail must be 'TP2009(your callsign)'.
Winner candidates are requested to provide detail of his TPW challenge immediately after 15th August 2009. TP2009 manager will request additional photos, QSO details, transceiver measurement note and legal documents. Non reply candidate or suspicious record without evidence will not appear in TP2009 result. Thus please keep all your TP2009 challengement when you submit record to win.
In Japanese Hamfest 2009, the results of 2009 is presented. There the winner, 2nd and 3rd record in homebrew category will be awarded with prize. The winner of production model category s awarded too. All competitor will receive proof of TP2009 entry.
Appendix
Power consumption on receive is measured at minimum volume level.
Power consumption on transmit is measured during voice transmitting sounds like gAhhch.
Additional report to clarify power consumption measurement is welcome.
For those who achieved 1000km/TPW during TP2009, JA-QRP club will issue the 1000km/TPW award by the its rules and form.
Free crystal and precise resistor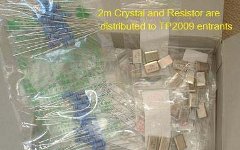 For TP2009 entrants who decided to make his transmitter, JH1FCZ President Okubo generously send a crystal and resistor as a free of charge. The crystal is 143-147MHz 9th order 16MHz fundamental and the precise resistor is 1-Ohm to measure precise current with your DVM. Please contact mx6s@yahoo.co.jp Junichi Nakajima JL1KRA with your favorite crystal frequency. Frequency of crystal is determined from stock. This service is only for competition entrant.

Simple 2m FM Transmitter kit
TP2009 manager distribute 2-transistor 15mW FM transmitter parts kit designed by JF1RNR. By using FCZ coils, we expect better reproduction of transmitter for VHF beginners. The transmitter is built on copper strip by dead bug style. Both 9th order fundamental crystal or 8th order fundamental crystal can be choosed during your construction it. The kit comes with 18.15MHz (8th order 145.52MHz) crystal. Schematic and instruction note are included. The price of the kit is 20USD+S/H. Please contact JL1KRA Junichi Nakajima, mx6s@yahoo.co.jp for your payment. Number of kit is limited.